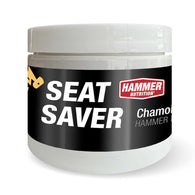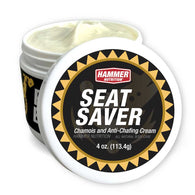 Seat Saver
Anti-Chafing & Chamois Cream
If you spend much time at all on a bike, you know that one of the most important pieces of equipment you need is a cream that helps protect that particular area where "skin meets seat." Suffering from chafing and saddle sores is no fun at all but with Hammer Nutrition's Seat Saver, your skin has its ultimate ally to defend against such unpleasantries.
Unlike the typical chamois creams, Seat Saver contains a wide range of scientifically supported, all-natural "skin specific" ingredients that provide lubrication, anti-chafing support, and anti-bacterial protection. Seat Saver is so easy to use, give it a try instead of your current chamois cream! Prior to riding, apply a light coat to the skin surface that comes into contact with the bicycle seat and to the chamois surface on the inside of the shorts. Re-apply as necessary, keeping in mind that a little goes a long way.
Also, though Seat Saver was designed primarily with cyclists in mind, that doesn't mean that it's just for those particular athletes. In fact, because Seat Saver is such a potent anti-chafing/anti-bacterial cream, runners, triathletes, and other endurance athletes find it to be ideal for helping to protect the skin from the discomforts of chafing and other caused-by-friction skin irritations.